FLATEYJARBOK:
HONORING TRADITION
WITH TIMELESS AESTHETICS
& MODERN SOLUTIONS
«Flatøyboka is a world treasure. It is the largest medieval manuscript produced in Iceland,
and it is also a beautiful work of art. It preserves poems, sagas, stories, and information found nowhere else, and in addition to this intrinsic historical importance, it offers an idealized vision of Norway as a European center of justice and virtue, giving it ideological and political implications that resonate to this day. Last but not least, the manuscript has what could be called an emotional history, for it was commissioned by a man with a personal attachment to Norway, and between the lines one can read both a celebration of the glories of Norwegian history and a deep sorrow about the end of the Norwegian royal dynasty.» – Dr. Elizabeth Ashman Rowe, editor.
WHEN THE TWO FINAL VOLUMES OF "FLATØYBOK" ARE LAUNCHED AT THE NORWEGIAN NATIONAL LIBRARY IN AUTUMN 2018...
... a four year publishing cycle will have come to an end, and the work's 5 volumes, all leather bound, weighing in around 14 kilos in total will mark that the most remarkable yet strangely unknown work in the saga canon has finally become available to a wide audience, and firmly and rightfully established alongside Snorri's Heimskringla, as an essential gateway to understanding the cultural and historical heritage of the Norse civilization.
Some of the our main objectives are:
To Increase the knowledge and understanding of Flateyjarbok amongst the general public and scholars.
Creating a basis for understanding more about the role and history of the work's main sponsor, Jón Hákonarsson of Vididalstunga, Iceland, and the intellectual millieu around him.
Preserving the saga text within the framework of a dignified yet functional aesthetic, honoring the masterful and exquisite craftsmanship that went into creating the original work.
Keeping retail prices low. In this way, the project maintained a sense of inclusiveness, giving more people access to the saga text. This has been made possible by generous gifts from our sponsors, absorbing much of the project's high production cost.
We have been able to reach our goals by:
[Click images for information]
Establishing our own media/communication center that has ensured high visibility in national and regional media outlets.
Using social media to build and maintain a strong online community.
International and domestic networking and non-profit activities focused on raising awareness of our shared cultural heritage.
Some examples of media exposure: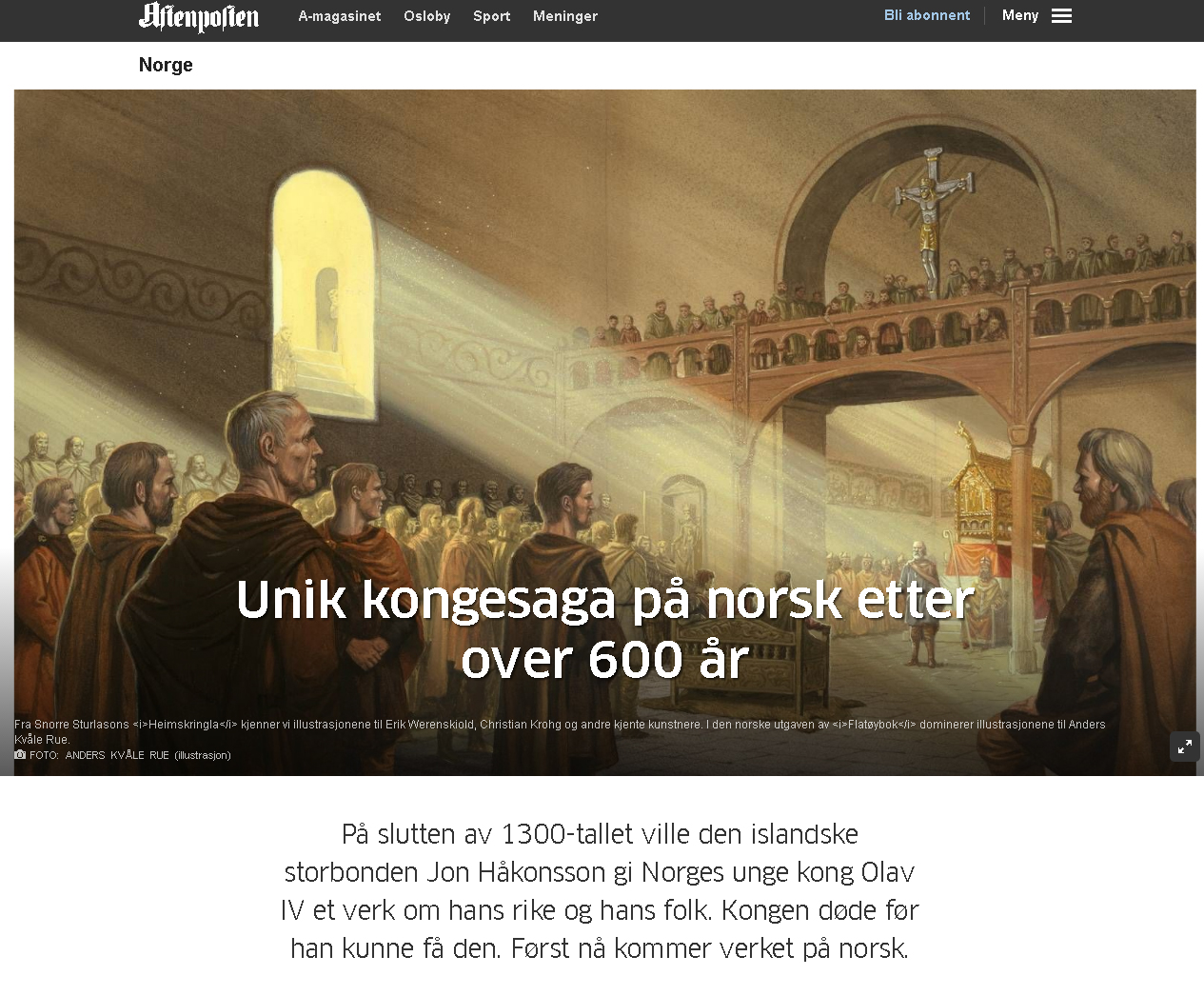 http://www.aftenposten.no/norge/Unik-kongesaga-pa-norsk-etter-over-600-ar-69507b.html
https://www.norwegianamerican.com/featured/flateyjarbok-preserving-our-heritage/